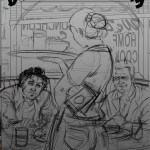 We at TANSTAAFL Press continue our policy of providing the first chapter of each book we publish as a preview. We don't want anyone making a purchase of one of our books without having a good idea that they will like not only the concept but the writing style as well.
As a result you can find the preview for Demon Holiday by following the link or going in the the Excerpts pull down menu.
As an additional bonus we've added Tony Foti's rough sketch for the cover of Demon Holiday.