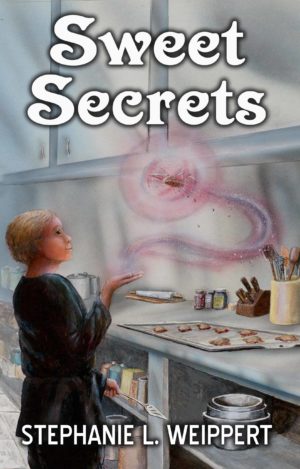 Sweet Secrets – Electronic Version
At seven, Michael gets into trouble no more than any other boy his age but he does have a sweet tooth. When the mailman misdelivers a package from a candy company, the youngster has to sneak just one. As he eats the chocolate, his home, stepfather, and everything he'd known melts around him and disappears. He finds himself in a dreamlike world where he is taken as an orphan, tested, and before he knows it is enrolled as a student in the premier cooking school on the planet. His fellow students can make cookies that fly and chocolate turtles that actually walk. Michael is told he has more cooking magic than any of them.
Brad is charged with watching his stepson Michael for the first time. When the boy disappears before his eyes, Brad panics. Within hours he is on an adventure tracking his son alongside an enigmatic chef. Always one step behind his son, Brad soon finds that Michael is being used as a pawn between the two most powerful chefs on the crazy planet. Worse he has to get Michael home before his mother finds out he's gone or there is going to be hell to pay.
SKU:

SS - EB

.
Category: eBooks.
Product Description
Purchasing this product will allow you to download mobi (Kindle) or epub (all others) versions