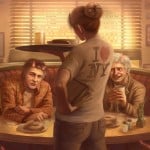 Demon Holiday, by Bruce Graw, is VERY close to going to the printers.   We are anticipating books being available for purchase in mid April.
Typesetting is in the final stages (second edit round consisting almost entirely of hyphenation issues).
The book cover is approximately 60% completed as we have received, once again, stunning artwork from Tony Foti for the front cover. The cover should be completed by end of February.