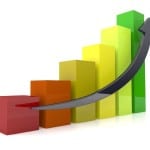 While it comes as no surprise to us, the data is in and TANSTAAFL Press has grown forty percent year-over-year in total sales. We are also at a positive cash flow. To have a positive cash flow in year two is amazing for any small business. We want to thank you, the fans, for your huge support.
While TANSTAAFL is currently using black ink we are dipping into this to create a few new items you might enjoy. First, and probably least for many of you, is that sometime in the near future, TANSTAAFL will offer e-books on our own site. We won't pull them from the other sites such as Amazon and Barnes and Noble but we will be making them available for direct purchase at conventions and our site.
Second, we are working on an animated book trailer for our company and our books that we hope will entertain you! While it doesn't directly involve the book plots, some of the characters (Don Quixote, the teddy bear and Cinnamon, the cat) will be appearing in leading roles. There is no definitive date for release at this time.