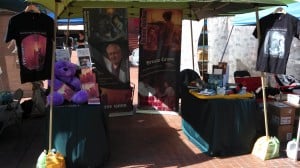 Over 100 authors in 50 different booths festooned the 5th Annual NW Book Festival.  The location of Pioneer Courthouse Square seems to have been perfect with a number of attendees stumbling upon the Festival only by chance as Pioneer square is a transit center for the heavily used public transportation of Portland. The coordinators of the event clearly have done an exceptional job. We certainly will return next year.
Don Quixote, the main character from Toy Wars, was the darling of the show. We had scores of people get pulled in to our booth by his presence, even those who had no interest in science fiction. More than one vendor said that they would need to get a bear to compete.
We had more than one offers to buy Don, but how can we part with a member of the family.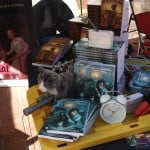 We want to let you know that we do listen, especially to some of the more colorful folks. We have also positively taken the feedback to provide a Young Adult or Near Adult novels in our offerings. Our hope this will be covered with an offering that we are already negotiating with our author Bruce Graw.
We were very pleased with the turnout and the response of the public to our offerings. TANSTAAFL Press wants to thank all of the people who visited our booth for their opinions, stories and purchases.
Special shout-outs to Bird, Mark, and Scott.