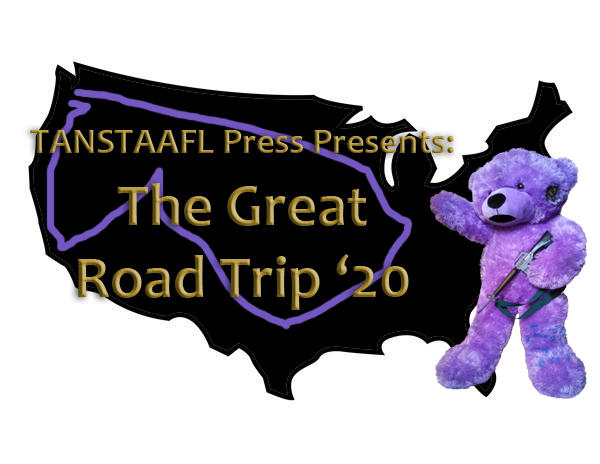 Welcome to the beginning of an adventure for TANSTAAFL Press and me, Thomas Gondolfi. I will be chronicling the trip on this website / social media. I hope you will follow along. I'll talk about the trials, tribulations, and more importantly achievements of this event.
I've always wanted to expand TANSTAAFL Press' range of personal distribution outside of the Pacific Northwest but the costs to fly to different cities, hotels, vacation time, and book shipping had made this problematic.
Early last year I was given the opportunity to purchase a small travel trailer (something just bigger than a teardrop trailer). Not only did I grab it but I decided to make it one of our marketing devices (as you can see in the post we made earlier).
Time had been an issue in number of shows I could attend in the past. As many of you know, I was able to retire from my day job as an engineer. This gave me the freedom to go beyond the few weeks I'd had available to myself in the past.
So with all of this in mind, I made the commitment to take on a long road trip to bring my wares to where they can be seen by a wider public. The trip will begin on Thursday 2/13/20 and will end 4/13/20 — eight conventions and ~6500 miles in nine weeks.
I'll talk more about the trailer, the trip, each stop and more as I travel along. I'll try to blog every day, but as you can imagine, that won't be possible on such an epic journey. In any case, tune in here often to see the latest.
The full list of episodes in chrono order.
The Itinerary
The Preparations
Even More Preparations